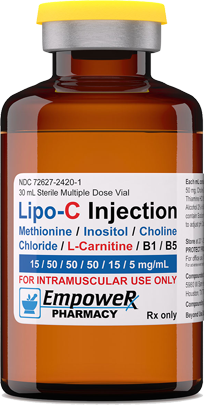 Lipotropic-C (MIC) Injection
Lipotropic-C injectionscontains a mixture of compounds that aid in the reduction of fatty tissue. The mixture of compounds individually may be effective, however in combination they may exhibit more lipotropic activity than when administered alone. This combination is used to increase the potential for release of fat deposits in certain parts of the body for example, the stomach, inner thighs, neck, buttocks and hips].
General Information
These lipotropic agents are structurally and functionally closely related to the B-vitamins, or are involved in the energy production from fat. These compounds are often employed together in the hope of potentiating fat-loss, thus while the MIC mixture and B vitamin (s) are often injected separately, they are part of the same overall injection cycle. The non- vitamin compounds (MIC) that are injected into the body stimulate the liver into optimizing the process of metabolism, elevate the movement of and utilization of fat, and provide the needed metabolic environment of the body for a fatty acid (fat) mobilization and utilization.
Lipotropic [MIC] Compounds
Injections Used For
Possible Side Effects
Storage