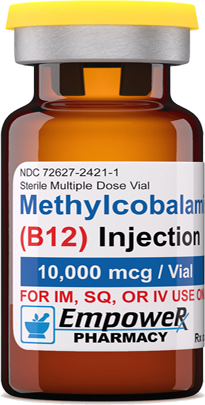 Vitamin B12 [Methylcobalamin] Injection
Methylcobalamin, or vitamin B12, is a B-vitamin. It is found in a variety of foods such as fish, shellfish, meats, and dairy prod- ucts. Although methylcobalamin and vitamin B12 are terms used interchangeably, vitamin B12 is also available as hydroxocobalamin, a less commonly prescribed drug product (see Hydroxocobalamin monograph), and methylcobalamin. Methylcobalamin is used to treat pernicious anemia and vitamin B12 deficiency, as well as to determine vitamin B12 absorption in the Schilling test. Vitamin B12 is an essential vitamin found in the foods such as meat, eggs, and dairy products.
General Information
Mechanism of Action
Pharmacokinetics
Precautions
Pregnancy
Breast Feeding
Side Effects
Storage
General Information
The most chemically complex of all the vitamins, methylcobalamin is a water soluble, organometallic compound with a trivalent cobalt ion bound inside a corrin ring which, although similar to the porphyrin ring found in heme, chlorophyll, and cytochrome, has two of the pyrrole rings directly bonded. The central metal ion is Co (cobalt). Methylcobalamin cannot be made by plants or by animals; the only type of organisms that have the enzymes required for the synthesis of methylcobalamin are bacteria and archaea. Higher plants do not concentrate methylcobalamin from the soil, making them a poor source of the sub- stance as compared with animal tissues.
Mechanism of Action
Pharmacokinetics
Precautions
Pregnancy
Breast Feeding
Side Effects
Storage