Anti-Aging [Facial Renewal] Ultra Cream
As we grow older our skin will lose its ability to effectively repair the visible signs of age. As skin loses its youthful levels of firmness and elasticity, facial contours may become less defined even as wrinkles become increasingly pronounced.
Anti-Aging Ultra Cream is a mixture of scientifically backed, effective ingredients that can help to mitigate the effects of age on skin for a more youthful complexion.
Anti-Aging Ultra Cream accomplishes this with seven ingredients:
Ascorbic Acid
Azelaic Acid
Alpha Lipoic Acid
DMAE
Aloe Vera
Estriol
Progesterone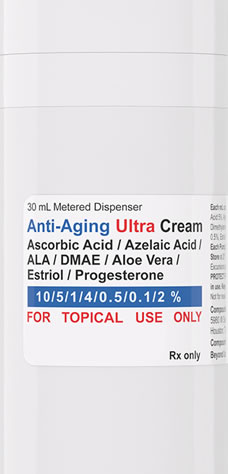 This combination of ingredients may act to not only improve the surface appearance of facial skin but also may stimulate collagen production beneath the skin to minimize the appearance of fine lines and wrinkles and give the face a smoother, more refreshed appearance.